Hamad International Airport Offers Elevated Spaces to Relax, Rejuvenate and Soak Up Culture
Be pampered by a massage, indulge in a nap, or feel enriched by art at this upscale Hamad International Airport.
NO MATTER WHEN YOU TRAVEL or what your purpose is — from business to leisure and everything in between — arriving refreshed is key to a great experience. That's why Hamad International Airport offers multiple points for relaxing and rejuvenating throughout the airport, as well as intriguing art installations that will keep you deep in thought long after takeoff.
An Artful Airport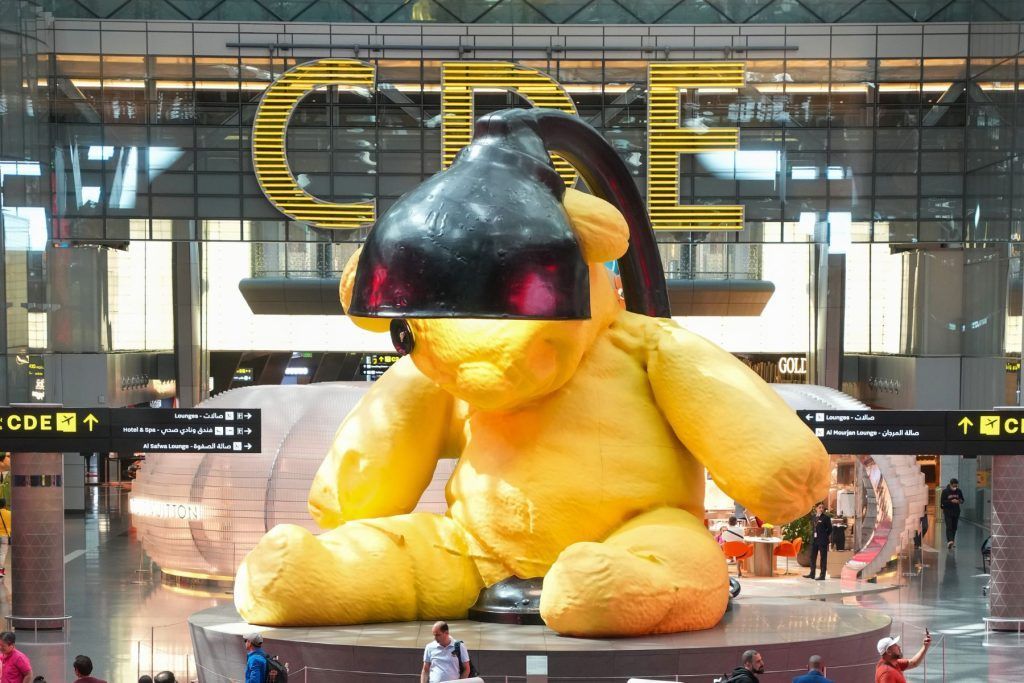 With the aim of proving that art can be enjoyed outside of museums and galleries, the installations by local, regional, and international artists at Hamad International Airport are enjoyed by millions of visitors each year.
Qatari artist Ali Hassan has produced an iconic Desert Horse sculpture fusing classical techniques with abstraction, while Qatar-based Iraqi artist Ahmed Al Bahrani displays A Message of Peace to the World in collaboration with Reach Out To Asia. London-based Iraqi artist Dia Al Azzawi sculpted the Flying Man based on the story of Abu Firnas, an early pioneer in flight experimentation.
Discover works by Mohammed Aljaida, Amal Al Raban, Salman Al Malik, Mubarak Al Malik, Amal Alatham and Yousif in other corners of the terminal.
Representing the international art scene, Jean-Michel Othoniel, from France, created Cosmos, symbolising the path of travellers, while Dutch artist Tom Claassen contributed the larger-than-life falcon sculpture outside the departures hall. American sculptor Tom Otterness is responsible for the cartoonish art that does double duty as a children's playground; pieces from KAWS, Keith Haring, Damien Hirst and Jenny Holzer can also be spotted.
Rest and Relax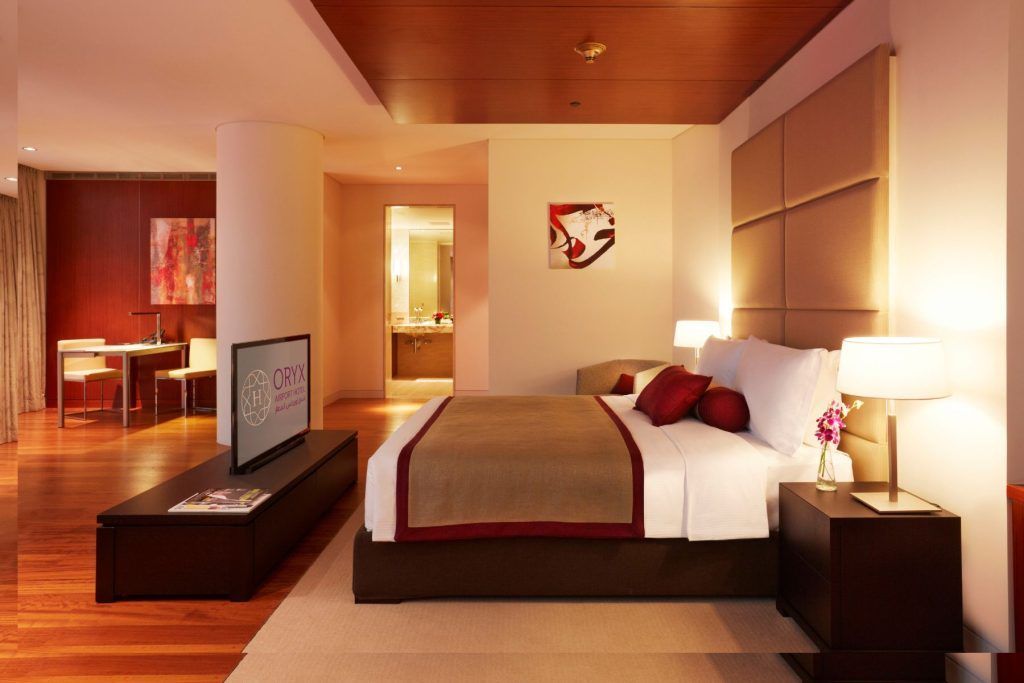 The terminal holds the five-star Oryx Airport Hotel in its South Plaza. With 100 rooms and suites and a welcoming oasis-like feel, the hotel offers short-stay rates for those on long layovers.
Oryx's Vitality Wellbeing and Fitness Centre contains a modern gym, indulgent spa, 25-meter swimming pool, squash court and golf simulator on its fourth floor. The facilities are free of charge for guests and accessible for a fee for non-guests.
Inside the hotel, The Spa provides relaxing treatments designed to soothe the travel-weary mind and body. Guests can choose from revitalising treatments to deep tissue massage and from aromatherapy experiences to hot stone application and facials that will leave skin detoxed from dry plane air.
For those with shorter layovers, the terminal's sleep 'n fly lounges and showers provide modern comfort for naps, relaxation and cleansing, as well as full-night bookings. With flexible check-in times around the clock, it offers options for single travellers, families, friends and groups. Sleep options include pods, double beds, bunk beds, and family cabins and many spaces include a dedicated workspace for those that need to be productive during their stay.
Another spa option for those not staying in the hotel is Be Relax Spa, a walk-in oasis whose menu features chair massages, manicures, pedicures and head-to-toe rejuvenation packages. And not to worry if you're short on time or don't have an appointment, the spa welcomes walk-ins and offers treatments that start at only 15 minutes.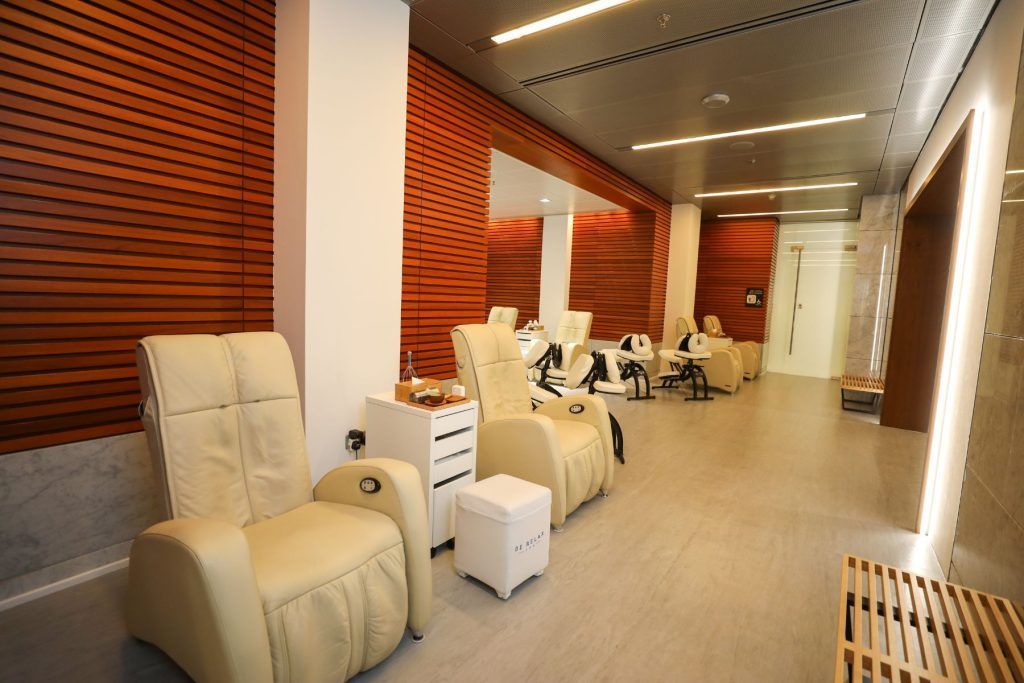 For shorter stays, you might simply visit one of the terminal's quiet rooms, purpose-built rooms for passengers to rest. These tranquil areas offer relaxing recliners and soft lighting, which are perfect for recharging before your connection.
There is also a wide variety of lounges for first-class passengers, business travellers, frequent flyers, unaccompanied minors, mariners, and a multi-sensory lounge for children with Autism and other special needs.
No matter which corner of Hamad International Airport you choose for relaxing, you are sure to board your next flight cool, collected, and ready to take on the world thanks to the airport's luxurious wellness offerings.
To learn more about Hamad International Airport, visit their website, dohahamadairport.com
---
Article sponsored by Hamad International Airport.
Images courtesy of Hamad International Airport.